Posts Tagged 'Valdosta GA Joint Pain'
Welcome to Care Medical Center's Valdosta GA Joint Pain Archive. Here you can learn more about Care Medical Center, Chiropractic, and Dr. Ryan Moorman, today's choice for Chiropractors in Valdosta, GA, Tifton, GA and Nashville, GA. Read Dr. Ryan Moorman's Chiropractic Valdosta GA Joint Pain for the health of it.

We look forward to serving you! Call - 229-241-8925 in Valdosta, 229-382-5857 in Tifton or 229-686-2277 in Nashville.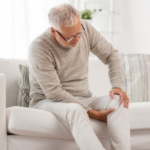 Chiropractic Care for Arthritis and Joint Pain Are you looking for a natural way to relieve the pain of arthritis or joint pain? Chiropractic care may be the answer! By using manual adjustments and specialized techniques, chiropractors can reduce inflammation and relieve pain without medications or invasive procedures. This blog post will discuss the benefits of chiropractic ...

Read More >>