MiRx Protocol: Safe & Effective Migraine & Headache Relief
Each year consumers spend more than $4 billion dollars on over the counter headache medications to try to temporarily mask their headache pain. But anyone who suffers from chronic headaches & migraines knows the frustrations. The relief, if any is short term. The risk of dangerous side effects is high, and OTC pain medications do nothing to prevent the next big headache right around the corner. That's what makes the MiRx Protocol so exciting. It's a whole new approach with a goal of providing fast, safe, long-term migraine relief!
FINALLY REACHING THE SOURCE OF HEADACHE PAIN
For years scientists have known that a migraine, headache, and facial pain is controlled by a nerve cluster called the Sphenopalatine Ganglion (SPG) located in a difficult to reach area of the nasal cavity. The challenge has been, how to get medication or a numbing agent to the SPG to provide immediate headache relief without painful treatments or even invasive surgery. With the MiRx Protocol, the solution is as simple as a nasal spray.
HOW MiRx WORKS – SIMPLE AS A NASAL SPRAY
It starts with a simple application of medication to the SPG and the anesthetic agent can be sprayed directly onto the SPG or by the use of a q-tip. The result is instantaneous headache relief. The treatment takes less than a minute and most patients report a pain rating decrease from eight to two within seconds.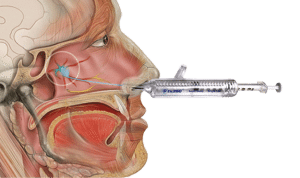 FAST AND SAFE, WITH NO LONG-TERM COMPLICATIONS
With the MiRx Protocol, you can avoid the complications or potentially dangerous side effects associated with long-term use of prescription medications or OTC painkillers. The MiRx Protocol is even safe for use on pregnant patients. A total headache treatment plan, the MiRx Protocol has been clinically proven to provide long-term results. While some patients can experience lasting migraine relief after just one treatment, those who have experienced chronic migraines or headaches for years may require the full treatment program for maximum benefit.