Chiropractic care is a non-invasive, drug-free approach to treating musculoskeletal issues, often focusing on the spine. It involves spinal adjustments and manipulations to alleviate pain, improve mobility, and promote overall wellness. The right chiropractor can make a difference by providing a personalized treatment plan to address your specific needs. In this guide, we'll walk you through the essential steps to finding the perfect chiropractor to help you achieve your health goals.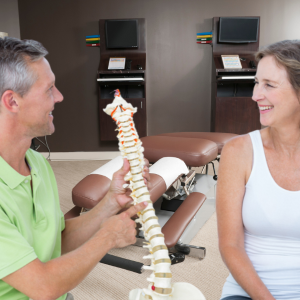 Finding the right chiropractor is crucial to receiving the best possible care. As with any healthcare provider, finding an experienced, knowledgeable, and trustworthy practitioner is essential. This guide will help you identify your specific needs, gather recommendations, and ultimately select the chiropractor that's the best fit for you.
Identifying Your Specific Needs
Before you begin your search, assessing your pain and discomfort is essential to pinpoint the care you need. Take note of the location and type of pain you're experiencing and the duration and frequency of your symptoms. Understanding the specifics of your condition will help you communicate effectively with potential chiropractors and ensure they can address your concerns.
It's also important to consider your lifestyle and habits when searching for a chiropractor. Your occupation and physical activity level significantly affect your overall health and can impact the chiropractic care you require. Be prepared to discuss any previous injuries or medical history with potential chiropractors, as this information can help them tailor a treatment plan to your unique needs. Set clear treatment goals, whether you're seeking pain relief, improved mobility, and function, or long-term wellness and prevention, and make sure your chosen chiropractor aligns with those objectives.
Researching and Gathering Recommendations
To find a chiropractor that suits your needs, use online resources. Chiropractic association websites can provide valuable information about the profession and help you locate qualified practitioners in your area. Online review platforms are also helpful, offering insight into other patients' experiences and satisfaction levels with specific chiropractors.
Personal recommendations are another powerful tool in your search for the perfect chiropractor. Friends, family, and coworkers can provide firsthand knowledge of their experiences, allowing you to make an informed decision. Don't hesitate to consult your primary care physician or other healthcare professionals for referrals, as they can offer valuable insights and connect you with reputable chiropractors in your area. Compile a list of potential chiropractors and contact them to discuss your needs and expectations.
Evaluating and Comparing Chiropractors
When choosing a chiropractor, the first step is to evaluate their qualifications and experience. This includes examining their education and licensure and any specializations and additional certifications they may have. For example, a chiropractor must have completed a Doctor of Chiropractic (DC) program and passed the National Board of Chiropractic Examiners (NBCE) exam to practice in the United States. However, looking for practitioners with specialized training or certifications in areas that align with your needs, such as sports chiropractic or pediatrics, is also essential.
In addition to qualifications, you'll want to analyze the treatment approaches offered by different chiropractors. This includes their techniques and methods and whether they incorporate integrative and holistic care options into their practice. It's crucial to find a chiropractor who is well-versed in various techniques, as this increases the likelihood of them having the tools necessary to address your unique needs. Furthermore, consider the practice environment, including the office location, accessibility, staff professionalism, and patient-centered care. Lastly, confirm if they accept your insurance coverage and offer flexible payment options.
Conducting Consultations and Making a Decision
After narrowing down your options, it's time to schedule initial consultations with your top choices. These consultations allow you to discuss your needs and goals with the chiropractor and assess their communication style and rapport. A great chiropractor should listen carefully to your concerns, be easy to talk to, and make you feel comfortable during the appointment. Finding a practitioner who genuinely cares about your well-being and has a supportive approach is essential.
Choosing a chiropractor who offers personalized, evidence-based approaches to care is crucial. During the consultation, the chiropractor will likely recommend a treatment plan considering your needs, goals, and overall health. Ask about the duration and frequency of treatment and any potential risks or side effects. Once you've consulted and carefully considered each chiropractor's recommendations, it's time to decide and begin treatment. Remember, the right chiropractor for you is the one who best aligns with your unique needs and preferences.
Conclusion
Finding the right chiropractor involves:
Evaluating their qualifications and experience.
Analyzing their treatment approach.
Conducting initial consultations.
Assessing their communication style and rapport.
By following these steps, you can ensure you receive the personalized care you need to improve your health and wellness.
Don't hesitate to start your journey towards better health – At Care Medical Center, our skilled chiropractors in Valdosta are dedicated to helping you achieve your health and wellness goals. Call one of our three locations to find out what your team can do for you.


For Your Health,

Dr. Ryan Moorman