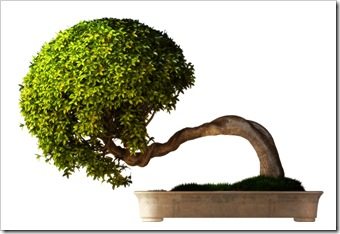 Have you ever wondered how life imitates nature?   As a tribute to one of our favorite movies, the Karate Kid,  from the 1980s, I would like reference one of my first encounters of understanding a Bonsai tree.   The ancient Japanese art form of growing Bonsai trees is fascinating. Bonsai trees are essentially normal shrubs that have been consistently stressed in a particular way for a long time to create a posture which would never be found normally in nature.  Depending on how the tree is stressed while it grows, it may end up looking like a miniature version of a full-sized tree, or it may end up looking like a wild tangle of branches with twists and loops.
Understanding Our Posture Metaphor
To most people, "good posture" means sitting and standing up straight. Few of us realize the importance of posture to our health and performance.
The human body craves alignment. When we are properly aligned, our bones, not our muscles, support our weight, reducing effort and strain on our nervous system.
With proper posture we feel healthier, have more energy, plus we move and age more gracefully. So while the word "posture" may conjure up images of book-balancing school girls, it is not just about standing up straight. It's about being aware of and connected to every part of yourself.
Posture – The Root To Good Health
Posture ranks right up at the top of the list when you are talking about optimal health. It is as important as eating right, exercising, getting proper rest and avoiding potentially harmful substances like alcohol, drugs, and tobacco.
Good posture is a way of doing things with more energy, less stress, and fatigue.
Without good posture, you cannot be physically, chemically or mentally fit.
Without good posture, you can physically damage your spine every time you exercise.
Without good posture, your nerves will not communicate properly with your glands and organs, resulting in all kinds of degeneration and potential chronic diseases.
The Posture Connection
Ideally, our bones stack up against one upon the other: the head rests directly on top of the spine, which sits directly over the pelvis, which sits directly over the knees and ankles. But if you spend hours every day sitting in a chair, if you hunch forward or balance your weight primarily on one leg, the muscles of your neck and back have to carry the weight of the body rather than it being supported by the spine. The resulting tension and joint pressure can affect you not only physically, but emotionally and chemically too.
Man's Force On Nature's Children
From the very beginning of our children's lives, we are always creating containers or guidelines to help form and develop them into the healthy adults that they will become.  As parents of this generation, we have encountered a new force that is creating bends and twists in our children's postures – the smartphones and electronic devices.  This repetitive activity over time is now grooming our children's' postures to the predictable head forward posture and rolled shoulders.  With the unhealthy bends we are seeing the all too clear results of back pain, headaches, short attention spans, depression, indigestion, reflux, high blood pressure, asthma and thyroid problems that are plaguing our youth.
What Does Your Posture Say About You?
If you or your child are suffering from posture related pain despite your best efforts to avoid it, your next stop should be a doctor of chiropractic to prevent the injury worsening and to promote healing. Having your posture and spine evaluated can be the first step to designing a program to help your body recover. Chiropractic is the right adjustment, tailored to the individual's size, age, shape, and need.
Ready To Help!
Contact us today and schedule a posture exam.  Your posture will be telling all of us more than you think!


For Your Health,

Dr. Ryan Moorman